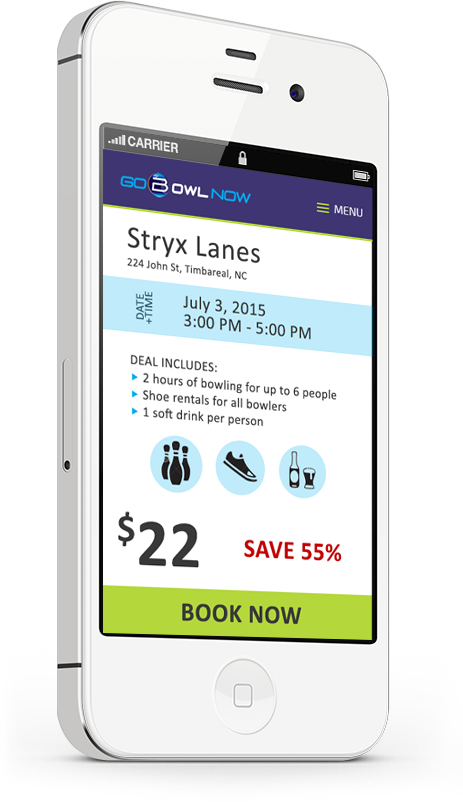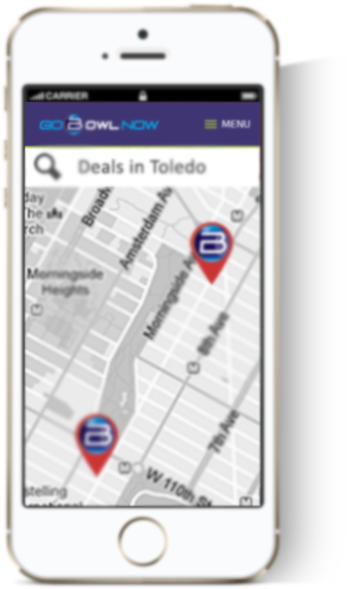 WE OFFER THE BEST
BOWLING DEALS ON THE WEB
GoBowlNow.com features bowling package deals for many bowling centers across the United States. Any deal on our website is ALWAYS the lowest price available for that bowling center at that time, guaranteed.
MORE THAN JUST BOWLING
When you purchase through GoBowlNow.com, you often receive more than just bowling; our deals can include extras such as shoe rentals, glow-in-the-dark, food and/or beverages. All to make your experience even better at the lowest cost available.
Visit GoBowlNow.com
Use your phone, tablet, desktop or laptop computer to visit our website. There you will be able to see all bowling deals available in your area and others.
Choose your Deal
Browse until you find the deal that works for you. You'll find deals at different bowling centers with different inclusions, prices, and start times for you to choose from.
Check Out
In just a few clicks, you can check out using a credit card or your Paypal account. Its quick, easty and safe to do so on GoBowlNow.com.
Go Bowling!
Just show up at the bowling center you bouught your deal for at the deal start time and you'll be enjoying yourself in no time. Because you've prepaid, there will be less hassle at the counter.
WHY BOOK THROUGH ?
01. Always the Lowest Price
Any Deal on our website is always the lowest price available at that bowling center at the Deal date and time, guaranteed. No need to search elsewhere.
02. Find Deals Close to You
GoBowlNow will detect your location and show you Deals from the closest GoBowlNow partner bowling centers. Want to see more Deals? You can always search the site for other Deals by date, time, and proximity.
03. Easy Payment and Checkout
No complicated checkout process or options to select. Just select your deal, enter your credit card or PayPal info, and your purchase will be completed.
04. Book Right from your Phone
GoBowlNow is optimized for mobile device use. If you're on the go, you'll be able to find and book your Deal from anywhere.
05. Easy Check-In at Bowling Centers
Because you'll have prepaid, your check-in hassle at the bowling center is minimized, making for a better experience for you and your friends and family.
06. More Centers Being Added Constantly
GoBowlNow is constantly adding new bolwing centers to provide you even more convenience. If you don't see a center on our website yet, rest assured we are working hard at partnering with it.
BOWLERS - GET UPDATES
Complete the form below to subscribe to our newsletters and updates.
BOWLING CENTERS - PARTNER WITH US
Complete the form below and we will get back to you with partner details.